Darwin the adaptable mage
A character design Project

This was a character I developed on my Master's as part of the 'Advanced Character Prototyping' module. We were provided with a working game framework and tasked with designing and producing a character with a thematic set of abilities.

The concept behind Darwin is that he has a base set of abilities that can change to take on additional elemental effects that are dependant on his currently equipped trinket.
The full list of features include: playable character with attributes, inventory, abilities, talents, animation scripts, particles, user interface, duration/persistent effects, equipable weapons, armour, and trinkets.

The project also contained 4 unique AI enemies with custom abilities, attributes, weapons, armour, and behaviour.

Here

is a link to Darwin's design document.

Genre: Action-Adventure / Role-Playing Game

Theme: Fantasy

Engine: Unreal Engine 4

Date: December 2017
Powered by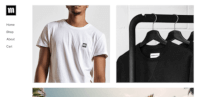 Create your own unique website with customizable templates.