Whispers of the Forest
An Unreal Engine Game

Whispers of the Forest is a platforming adventure that follows Willow the Wisp after waking up from a long rest in an enchanted forest. The player must find the season altars to learn how to periodically change the season in order to rediscover the world in multiple variations, each one providing the player with new answers and new puzzles.

This game is the result of a collaborative project that was made over the academic year. The team consisted of 3rd year students, who acted as seniors, and 2nd year students, who were the juniors. All of whom were undergraduates from Art, Design, and Tech courses.

As a senior on this project, I took on the Lead Design and Producer roles, whilst also assisting the Tech team.

I was responsible for: idea development, gameplay & level design, and UI/UX design & implementation.

I also directed the team with a clear vision through weekly updated product backlogs, asset lists, and reference documents.

Genre: Action / Adventure / Platformer

Theme: Fantasy / Celtic

Engine: Unreal Engine 4

Download:

Link


Date: April 2017
Powered by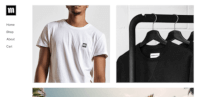 Create your own unique website with customizable templates.