Shivering Devils
An Unreal Engine Game

Shivering Devils is an adventure following two devils as they go through hell, literally! Their world has frozen over and it's upto you to guide them through each sin-themed environment in order to reach the goal and return their home to normal.

This game is the result of a collaborative project and was developed over the academic year. The team consisted of 2nd year students, who acted as juniors, and 3rd year students, who were the seniors. All of whom were undergraduates from Art, Design, and Tech courses.

As a junior on this project, my role required a flexible approach as I took on supporting both the Design and the Tech teams.

I followed directions and sought

responsibilities that allowed me to broaden my skillset and give me insight into: research, early design processes, visual scripting, level design, user interfaces, user experience, quality assurance, and department liaising

.

Genre: Action / Adventure / Platformer

Theme: Fantasy

Engine: Unreal Engine 4

Date: April 2016
Powered by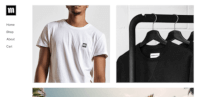 Create your own unique website with customizable templates.