Save Yourself!
An Unreal Engine party Game

Save Yourself! is a party game where animals find themselves shipwrecked on a tropical island, and must build a bridge to get away by gathering supplies that can be harvested from the environment. Or you can be a saboteur to the other animals by stealing from their resource piles when they're not looking and stun them by throwing coconuts! There's also an optional crafting system to improve your efficency at gathering. The first animal to get away wins!

This game is the result of a Master's level group project and was developed over 12 weeks. It was built with the Nintendo Switch in mind, and took inspiration from popular party games like

Overcooked

and

Gang Beasts

.
My role for this project was as a designer and technical scripter.
I was responsible for: idea development, gameplay design & implementation, systems design, level design & implementation, and UI/UX design & implementation.

Although we had no designated leader, I helped direct the team's vision with updated product backlogs, asset lists, and reference documents.

Genre: Party
Theme: Fantasy / Tropical
Engine: Unreal Engine 4
Date: April 2018

Powered by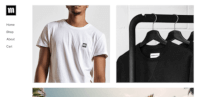 Create your own unique website with customizable templates.