NY Noire
A User Interface Project

NY Noire is a polished Main Menu System that depicts a 1940's era Private Investigator's office, and was my first project for a User Interface Design & Implementation module.

The menu was entirely developed via visual scripting in Unreal Engine 4, with an emphasis on using the UMG system to setup a precise and streamlined experience.


I drew inspiration from existing Main Menu systems of the same genre, as well as some with dynamic camera movement, such as:

LA Noire

, Grim Fandango, and

Sniper Elite

.

I was also inspired by the opening sequence in

Jessica Jones

to give a more modernised style to the scene. It interested me how warm and cold colours portrayed mood on a dark backdrop, leading me to light my environment with the support of this style.

Theme: Film Noir

Engine: Unreal Engine 4

Date: December 2015
Powered by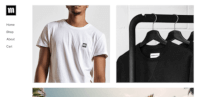 Create your own unique website with customizable templates.