Grinders keepers
An Unreal Engine Game

For the final year project of my Bachelor's, I built a framework for a dungeon crawler where the player develops their own character, fights monsters, and collects loot whilst using traditional character progression. The player can explore through randomly generated dungeons, or use a built-in level editor tool to create their own custom map to play through.

This was a tech-focused project that ended up winning me the 1st place prize at the annual graduation exhibition in the "Games Design and Production" category, as voted for by judges from industry.


The full list of features include: character creation, main menu system, hub level, interactive npc's, quests, inventories, shops, loot, item buying & selling, item storage, character attributes & currency, leveling, random level generation, custom level editor, enemy monster AI, basic combat, destructible environment, fading walls, intuitive & reactive UI, and environment traps.

Genre: Action / Adventure / Role-Playing Game
Theme: Fantasy
Engine: Unreal Engine 4
Date: April 2017

Powered by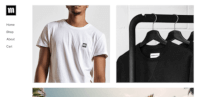 Create your own unique website with customizable templates.