Castle Environment
A level design Project

This was a prototyped level I developed on my Master's as part of the 'Advanced Games Environment Design' module. We were tasked with designing and producing a dungeon crawler that included interactive puzzles and traps.

Because I had experience building dungeon crawler's from my Bachelor's final year project (Grinders Keepers), I made it my goal to use this module to improve my level design techniques. This wasn't limited to the shape and flow of my prototype, but also the environment itself. I wanted to achieve a believable fantasy world that made the prototype more intriguing.


The full list of features include: a movement memory puzzle, interactive npc's, quest system, item inventory, bag storage, character attributes & currency, player leveling, map, chatbox, enemy monster AI, basic combat, destructible environment, fading walls, user interface, spatial highlighting, and lava traps.

Genre: Action-Adventure / Role-Playing Game
Theme: Fantasy
Engine: Unreal Engine 4
Date: December 2017

Powered by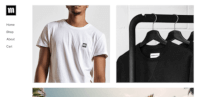 Create your own unique website with customizable templates.